Only one roars like that
Our in-house liqueur made from whisky, rum and vanilla is produced regionally and is available in the online shop as well as in the local Platzhörsch store.
Buy liquor
Likör - der zur Musik Röhrt
Lass die Festival´s beginnen, die Alltagssorgen vergessen.. Sonne, Musik und ein eiskalter Platzhörsch mit Cola oder mit Ginger Ale?
Definitiv als Shot! Verröhrt gut!!!
Den will ich probieren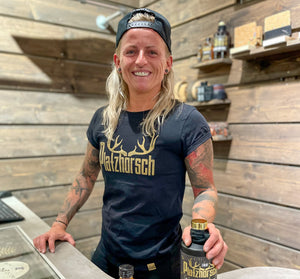 Our store
"Take off your clothes, we'll get you dressed."
Since 2013 we have had a firm foothold in Wernigerode's shopping street.
Textiles for deer and stags, accessories and even piercing jewelry can be found in our range.
Our philosophy is to help you find your new outfit in a competent and friendly manner.
We are a young, dynamic team, which is looking forward to your visit.
Learn more
Our liqueur
Since 2020 you can also drink the Platzhörsch.
A combination of whisky, rum and vanilla with 35% alcohol.
Each drop is bottled regionally in the Harz Mountains.
Our idea? : "Everyone can use herbs" - but Hörsche love whiskey.
Now available in three different sizes.
Buy liquor
What customers say about us
Great clothes, great advice - if we're in Wernigerode again, we'll be happy to come back!
Kai Kutzki
Recommended. Despite the closure during the Corona times, quickly accessible and a good and fast purchase process. Always happy. Great service!
Sophie Klein
Coolest shop ever. We were there on Saturday and, thanks to the saleswoman, got a bag that was already sold out.
Stephen Post
The liqueur is really awesome. Just awesome and great as a gift. Keep it up.
Catherine Neuman
Super cool store. The saleswoman was very friendly and gave me great advice. I would love to come back. I wish we had a shop like this.
Christiane Noack
Platzhörsch Store
Monday - Friday, 10:00 a.m. to 6:00 p.m
Saturday 10:00 a.m. to 5:00 p.m
Sunday closed